————————————————————————————————-
https://www.detroitnews.com/story/news/local/michigan/2020/09/14/boy-fatally-shot-hunting-stepfather-arrested/114026128/?fbclid=IwAR1jTDTcapRbGtZTl_7aI8i-qdIKrnWdhiobR6vDGZa9Hj0JegngDnLFfXw

Associated Press

Clay Township — An 11-year-old boy was shot and killed by his stepfather while hunting with his family in southeast Michigan, the second hunting death of a youth since Saturday.

Police were called out to a hunting accident Sunday night in Clay Township, the Times Herald of Port Huron reported.

Police said its believed the family was looking for deer in some woods when the boy was "struck by a round discharged by his 40-year-old stepfather." The boy later died at a hospital.

The stepfather was arrested. The shooting was being reviewed by the St. Clair County prosecutor's office. Fox 2 Detroit reported that while police were there, another gunshot went off. Police said the child's mother had shot herself in the hand as she was trying to unload a gun and it mistakenly went off.

Clay Township is about 45 miles northeast of Detroit.

On Saturday, a 14-year-old deer hunter who possibly fell asleep in a farm field was killed when he was run over by a corn harvester in Michigan's Thumb region, police said.

Emergency workers were called about 9 a.m. Saturday to the cornfield in a rural area near the Huron County city of Caseville after a farm worker spotted the boy soon after accidentally driving over him, according to the county sheriff's office.

The boy from the nearby city of Elkton had been dropped off earlier for deer hunting at the field and might have fallen asleep, the sheriff's office said. The farm worker wasn't aware that anyone was in the field.

The boy's identity wasn't immediately released by authorities and an autopsy was expected to be performed in the coming days.

The deaths came during the Liberty Hunt on Saturday and Sunday, and is designed for veterans and others with disabilities and youths ages 16 and younger.

The two-day hunt, which comes ahead of the launch of the anterless firearms and bow season, can be used for an antlered or antlerless deer, according to the Michigan Department of Natural Resources, which sponsors the hunt.

The hunt takes place on private or public lands open to firearm deer hunting,

————————————————————————————————————-

Nick Stevenson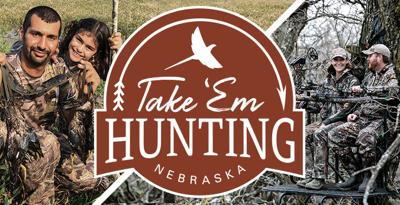 NORFOLK – The Nebraska Game and Parks Commission is encouraging you to take someone hunting.
Public Information Officer Greg Wagner says the "Take 'Em Hunting" challenge runs through May next year and you have the chance to win some great prizes.
"Look in your family network, look in your friend group, or even better take somebody who doesn't look or act like you out hunting. There's so many young people especially that really need to have hunting. You know with the current pandemic it's easy to look in your bubble especially with your family network and find an individual who has always wanted to go hunting, but never had the option made available by anyone."
Wagner says last year, over 2,100 mentors participated, bringing nearly 1,580 first-time hunters into the field to hunt.
He says the challenge is about nature and the best thing a hunter can do for conservation is to introduce someone new to hunting.